---
Bauhinia divaricata
Dwarf Orchid Tree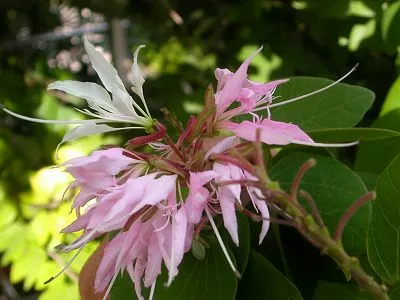 The genus "Bauhinia" is one of the easiest genus to identify because of the uniqueness of the leaves. Each leaf has 2 clefts which gives it the appeareance of the foot print of an Ox. Some species have leaves as small as a half and inch. Other species have leaves as large as 6 inches across. They all have the same "Ox" foot print shape.
Bauhinia divaricata is one of the small to medium sized tropical tree species whithin the Bauhinia genus. It is under utilized in the landscape, and sold by very few nurseries. It will grow from 15 to 25 feet in height, with a rounded, rather dense crown. The tree is evergreen, although like all Bauhinia's, it is constantly replacing older leaves with new. The leaves on the divaricata are rather small, so they do not create the "dirty" situation that many of the larger Bauhinia's create with their heavy leaf drop.
Once it matures, the Bauhinia divaricata will produce flowers profusely for 12 months out of the year . The flowers are white when they initially open. The color will then change to a soft pink as the flower ages. The flowers form in groups of 4 to 6 buds at a time, opening on a random basis. The random opening of the buds ensure that you always have a contrasting display of young white flowers, along with older pink flowers.
This Orchid Tree is not only extremly pleasing to the eye, it is also extremely easy to care for. It is not particular about the type of soil that it lives in. Once it is established it can easily tolerate a draught situation, or heavy rains. Temperature is its only weak point. It is tropical and will die back at temperatures lower than 30 degrees F. The root system will survive temperatures in the 20's for a short period of time.
This is really a very nice tree for any landscape. It stays short enough that it can be planted under power lines. Or it can be used as a center piece for a small grassy area. Yet this Orchid Tree is tall enough that it can be used as a shade tree where a large tree would be to much.

---