---
Hamelia patens
Fire Bush, Texas Firecrack
Hamelia patens, common names - Fire Bush, Texas Firecrack - is a medium sized tropical shrub that produces flowers year around, providing a nectar habitat for Humming Birds and butterflies, in addition to juicy fruit for other birds and animals.

Hamelia patens is a great plant when provided as a habitat for butterflies and Humming Birds. It provides a year round source of sweet nectar in brightly colored, tubular flowers, which are favorites of all species of Humming Birds and butterflies. Birds are also drawn to the Hamelia patens for its supply of lush blackberries, which adorn the plant right along with the constant display of flowers. The Fire Bush should be included in every garden that is intended as a wildlife habitat.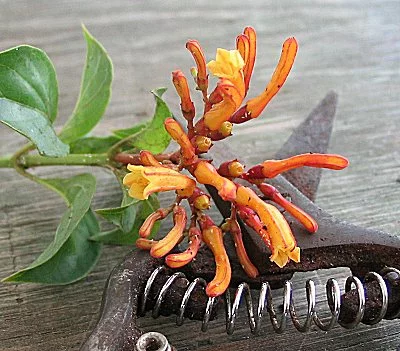 Hamelia patens, Firecracker Plant, is a fairly fast grower, topping out at around 15 foot. It is usually smaller than that depending on the growing conditions. It is a semi woody evergreen perennial shrub that has no dormant period. It grows year round, also producing flowers year round. It can be kept small by pruning. Since it has no dormant season, pruning can be done at any time. It, in fact, should be pruned at least every 2 years to initiate growth of new wood and a denser display of blooms.
Hamelia patens is best grown in full sun. It will do well in shade, but the quantities of flowers is reduced as the amount of sun light is reduced. Heavier shade also causes the plant to become leggey and creates an open growth habit. On the other hand, if it is planted under a small tree, it will develop an almost vine like habit, growing up in to the tree and blooming as it gets closer to the brighter parts of the outer tree canopy. This can produce an interesting combination.

Hamelia patens is very forgiving as to where it is planted. It is suitable to any kind of soil. It is salt tolerant if planted near the ocean, and is drought tolerant once it is established. It is found in both hot - dry climates, as well as in hot - humid rainy climates. For best growing conditions however, it should be placed in a well drained soil that receives frequent watering.
Hamelia patens is a tropical plant, and must be treated accordingly. It is root hardy to zone 9, with reports of survival in zone 8 when placed in a protected area. In these situations it will die back to the ground, coming back in the spring after the weather has turned suitably warm. It does well in containers, making it a good plant for bringing inside to a sunny location for the winter. Since it has no dormant period, it will continue blooming inside as long as it gets enough light and water.

Hamelia patens blooming habits are very animal friendly. First, the Fire Bush blooms all year long in warmer climates providing a constant food source for birds, and butterflies. The flowers are tubular in shape, ¾ inches long. They form in terminal clusters of bright reddish - orange or scarlet. Even the short flower stems are reddish in color. The bright flowers are an advertisement for humming birds and butterflies to come and taste the delicious nectar inside the attractive flowers. The butterflies in turn provide the pollination required for setting fruit. The fruit ripens in clusters, starting a green color, advancing to yellow, to red, and finally to a shiny black berry. The shiny, juicy black fruit attracts the attention of the birds in the area, providing a nutritious meal for our feathered friend.


---