---
Hyophorbe lagenicaulis
Bottle Palm
Hyophorbe lagenicaulis - Bottle Palm - is an endagered species on its only known native home of Round Island in the Mascarene Island Group, Indian Ocean. Hyophorbe lagenicaulis has been saved from extinction by its popularity, and extensive cultivation throughout the world. The Bottle Palm's grossly enlarged base, its neat - tapering crownshaft and canopy, and its slow growth, have made it a most desirable palm for both landscape and interior displays. A dainty, neat palm, growing only to 12 feet, with a bottle-shape trunk which is widest at the base, tapering upwards to the neck of the bottle formed by the crownshaft. The canopy is sparse with only 4 to 8 leaves which are stiff, smooth and recurve on a small, 8 to 10 inch petiole.
The amazing swollen trunk is the eye catcher on this palm, but it also has other interesting characteristics that come and go as the palm matures from a seedling to a mature specimen. As a seedling, and through the Bottle Palm's juvenile period, the crownshaft and leaf petioles are an interesting red to orange color, eventually changing to the normal greyish green color as it matures.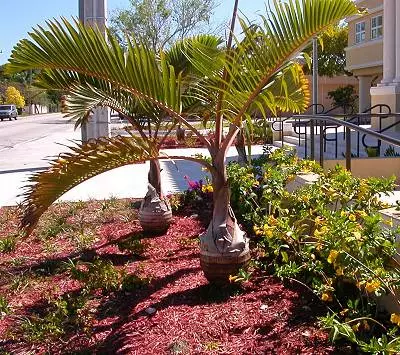 As the Hyophorbe lagenicaulis - Bottle Palm passes from seedling to juvenile it starts to develop the huge, swollen trunk. In the early years, the trunk will swell more the the palm grows in height, making it look like a large ball with a neat little canopy.
As the palm ages, it starts to elongate more than the trunks swells, giving it the bottle shape. During this whole period, the canopy gets larger with each successive growth until the leaves are 9 to 12 feet in leangth. Because this is a slow grower, it can take years for it to reach its mature height.
Hyophorbe lagenicaulis - Bottle Palm is truly a tropical palm. It loves tropical heat and is very salt tolerant. It cannot take any freezing temperatures, and will be severely damaged, if not outright killed by a hard frost. Any temps below 38 degrees call for protection for this palm.
It is commonly thought that the swollen trunk is for the purpose of water storage. This palm however requires frequent watering during extended dry periods to look its best. Hyophorbe lagenicaulis - Bottle Palm also benifits greatly from giving it an application of a good slow release palm fertilizer that includes micronutrients 2 to 3 times a year.
This is a very attractive palm for a small landscape, or a mass planting in a larger landscape area. Also, because it has a very slow growth habit, and a small size, it makes a very nice indoor plant for a well lit area.

---