---
Hyophorbe verschaffeltii
Spindle Palm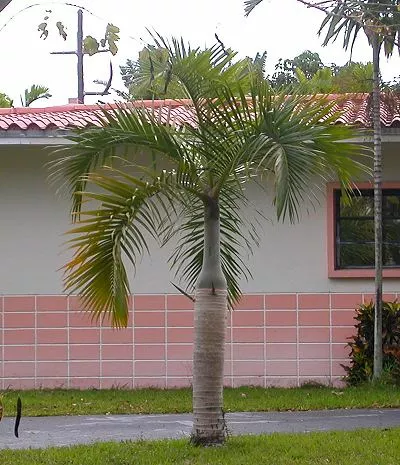 Hyophorbe verschaffeltii is an interesting speciman palm that fits well in a small landscape, or mass planted in a larger display. Because it is a very slow grower, it is also suitable as a container plant for brightly lit interior landscapes. The Spindle Palm has a unique trunk shape which gives it the name Spindle Palm. It has a bright green crown shaft, leading to a crown of 5 to 10 arching fronds which turn outward and down at the end. This is one of the more beautifull palms in the landscape.
Hyophorbe verschaffeltii - Spindle Palm is a fairly slow grower. In its younger years the trunk will form almost perfectly vertical, parallel sides which narrow at the top where the crown shaft begins. The color is a pleasant gray with grayish- white leaf scares forming close together. As the palm ages, it will begin to bulge in the middle making its spindle shape. It will take years to reach its mature height of 20 feet.
The Hyophorbe verschaffeltii - Spindle Palm is native to only one area: the Mascarene Islands. Like its sister the Bottle Palm, the Spindle Palm has become almost extinct. Because of its attractiveness, and its ease of growth, it is a very popular palm, and has been cultivated throughout the world.
This is a truly tropical palm, and will be damaged at any temperature below freezing. It will take frost temperatures if they are only for a very breif period of time. Being from the islands, it is very salt tolerant. Like the Bottle Palm, the Spindle Palm likes a moist area, and needs irrigation during dry spells. It also needs suitable nutrition, and will show signs of deficiencies, especially pottasium and magnesium, if the soils are deficient in these. A good palm fertilizer with these micronutrients applied 2 to 3 times a year will be greatly appreciated by this palm.

---