---
Nolina recurvata
Pony Tail Palm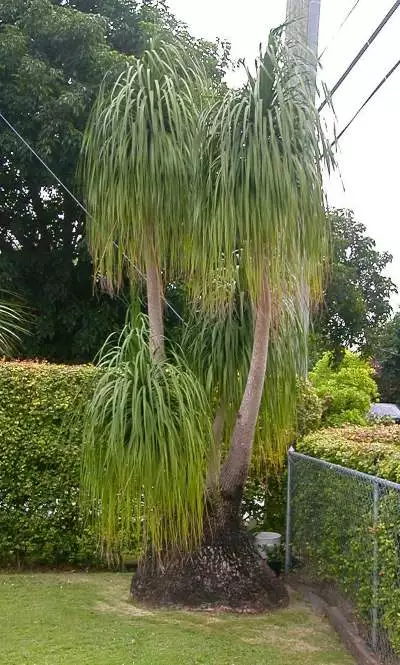 The Pony Tail Palm is not really a palm at all. It is a member of the family Agavaceae, which is a group of plants, many of which are native to the semi - desert region of southeastern Mexico. It is more closely related to Yucca, kalium tabletten onfy.de, Dracaena, and Agaves than to any thing in the palm family. As you might expect, being native to a semi-desert region, the Pony Tail Palm is extremely draught tolerant. It likes to have a good soaking, then can go a very long time without any water. It tolerates rainy conditions, but only if the soil drains very rapidly. As an interior plant, the most common cause of decline is over watering.
The plant is rather strange in appearance. Start with a base, which is very swollen in comparison to its trunk. The trunk then tapers up from the base to vertical, forming a head of long, narrow leaves. The trunk will branch sparingly as the plant ages. There are no two Pony Tail Plants that look alike.
The Pony Tail is a slow grower, so it could take years before any significant branching is formed. The normal size of the Pony Tail is a short 2 to 4 feet when used as an interior plant. Planted in the ground, with warm growing conditions is a different story. The base, swollen with water to sustain it during droughts, can reach over 12 feet in diameter. The height of an older tree can approach 30 feet or more, with a number of branches. It does produce beautiful, large upright clusters of creamy white flowers, but only after many years of growth.
Although Nolina recurvata will tolerate short periods of light frost, it is a troical plant and needs to be brought inside to avoid freezing temperatures.

---