---
Philodendron bipinnatifidum
Philodendron Solloum
The Genus Philodendron includes many species of climbing vines. Philodendron Solloum is the exception. It is more a shrub that starts life as a tree with very large glossy leaves. What makes this so interesting is that it develops a single, semi woody trunk that starts out erect, then as the years pass by the trunk snakes out across the yard. The trunk does not produce any branches, but does produce arial rootlets between the leaf scars. These arial roots provide support for the trunk in an up-right, erect growth pattern. The trunk will gradually turn horizontally, than down as the plant ages and the arial roots can no longer support it in a vertical growth direction.


| | |
| --- | --- |
| | |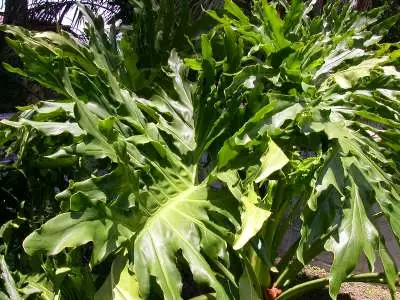 The leaves, like most Philodendrons, have a "miniature" stage, and an "adult" stage. The "miniature" leaves will be much smaller, heart shaped, and only slightly notched. This stage usually last for 2 years, but could last longer if the plant is maintained in a small, confining container such as might be used for indoor display. The adult stage leaves are very large, measuring over 3 foot in length. They are deeply dissected in to many wavy-margined lobes. This gives each leaf a ruffled appearance, adding to the attractiveness of the plant.

Philodendron Solloum is a tropical plant native to the rainforest of Paraguay and Southeast Brazil. It likes a fairly moist well drained soil, with frequent watering during the growing season. During the winter months it can be allowed to dry out a little between waterings. If grown indoors, the plant may need to be misted on a regular basis if the humidity is too low.
It is very versatile when it comes to the amount of light that it receives. It is happy to grow indoors, with only the indirect light of a window. But is just as happy out in the middle of a yard where it gets full sun all day. However, if it gets full sun, the leaves will have a yellowish - green color and will be somewhat smaller in size. You will notice in the picture of the mass planting that the plants under the trees are noticably taller than those out in the full sun.
This Philodendron is adaptable for zone 9 through 11, although I have heard reports of survival with teperatures down as low as 18 Degrees. It will be damaged in a hard frost, killing the leaves. A hard freeze will kill the stem back to the ground. A new stem will usually form in the spring unless the freeze was too hard.


---