---
Spathodea campanulata
African Tulip Tree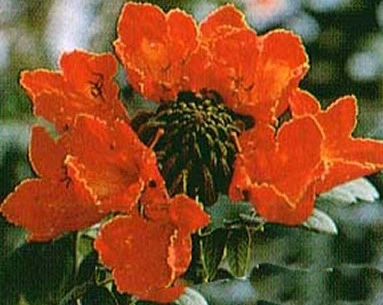 When the situation calls for a large tree with a spectacular flower display, the answer is Spathodea campanulata - African Tulip Tree. Under ideal growing conditions, the African Tulip Tree will reach heights of up to 80 feet. The crown will spread to over 40 feet. In less then ideal growing conditions, it will still reach a large 40 to 60 feet. The trunk is wide, and forms buttresses with age. Branching is in an upright pattern with long, compound, glossy green leaves massing at the end of the branches.
The African Tulip Tree is an attention getter from near and far. Because it is taller than most trees, and the blooms form in terminal clusters at the end of the branches, it really stands out on the horizon. The flowers are so large that the color creates a remarkable contrast against a deep blue sky of a clear day.
The blooming season for Spathodea campanulata is winter through late spring, onfy although I've seen reports of blooming all through the year. The buds form in large, upturned brown whorls at the branch tips. The buds open a few at a time, starting with the lower tier. They bend out and up, opening several at a time to big, crinkled red and orange - scarlet flowers.
Spathodea campanulata is native to the rain forests of Equatorial Africa. It is such a popular tree that it has become naturalized through out the tropical pacific. Evan though it prefers rain forests, it will put up with a draught by shedding its leaves until moisture levels come back up to a more desirable level. It likes rich soils but will do well in any soil type. Newly planted trees should be watered regularly until they are well established. Once established, little or no care is required.
The African Tulip is tropical, and cannot tolerate very low temperatures. A light frost will cause die back of the top growth. The roots can survive down to 22 degrees F for a short period of time.

---