---
Welcome to Ann's Tropics.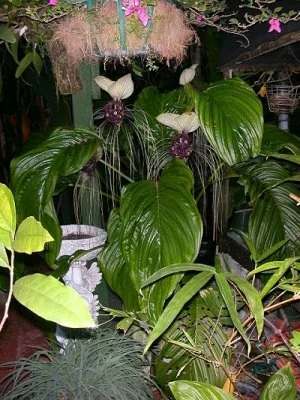 Welcome to Ann's Tropics Plant Encyclopedia. Our goal is to provide the gardening community with a rich source of plant descriptions for Tropical Trees, Tropical Palms, Tropical Shrubs, Tropical Vines, and Tropical House Plants. Browse through the Tropical Plant categories in our encyclopedia. Find a plant that you might like and read the description to see if it is for you. Make sure the color and future size will fit within your plans. If you would like to purchase the plant, just click the link to our Shopping Cart and place your order over our secure site.
We are constantly updating this site, and will be adding plants and products as quickly as we can. Be sure to bookmark this site, and come back frequently. If you are looking for a specific tropical plant that is not listed, please feel free to drop us a line. We will make every effort to promptly help you out. If you click over to our Shopping Cart and can't find a plant that you want to purchase, again, please drop us a line. There is a good chance we can locate it for you.
contact us | foundation | Acalypha hispida-Chenille Plant | Acalypha hispida | Acalypha pendula | Bauhinia divaricata-Dwarf Orchid Tree | Bauhinia divaricata | Bougainvillea arborea | Caesalpinia pulcherrima | Cananga odorata-Ylang Perfume Tree | Cananga odorata | Clerodendrum minahassae | Clerodendrum quadriloculare-Starburst | Clerodendrum quadriloculare | Clerodendrum splendens-Flaming Glorybower | Clerodendrum thomsoniae-Bleeding Heart | Clerodendrum thomsoniae | Euphorbia leucocephala | Ficus microcarpa-Green Island Ficus | Ficus microcarpa var GreenIsland | Filicium decipiens-Japanese Fern Tree | Filicium decipiens | Galphimia gracilis-Thryallis | Galphimia gracilis | Hamelia cuprea-Bahama Firebush | Hamelia cuprea | Hamelia patens-Fire Bush | Hyophorbe lagenicaulis-Bottle Palm | Hyophorbe verschaffeltii-Spindle Palm | Jatropha podagrica-Gout Plant | Livistona chinensis-Chinese Fan Palm | Megaskepasma erythrochlamys-Brazilian Red Cloak | Nolina recurvata-Pony Tail Palm | Petrea volubilis-Sandpaper Vine | Spathodea campanulata


---